March 21, 2018
Greetings Friends of Highland Affordable Housing (HAH)!
We at HAH are gearing up for our 2018 year of fundraising and advocating for affordable housing in Truro.  We are feeling up-beat and positive about future possibilities to add more needed varied housing in our community.  Almost everywhere we go lately it seems that we are hearing about the need for affordable housing for our friends and neighbors. Our commitment and work is often challenging, especially when it comes to financing the projects that we encounter.  We are only able to do our great work through the mutual commitment and involvement of everyone who is willing to help see our dream become reality. With your help we are hoping to make others' dreams of living in our community a reality as well.
Re advocacy:  One way you can be involved in the effort towards affordable housing in Truro is to vote for the year round condominium amendment at the Annual Town Meeting, April 24, 2018, 5:00 pm.  The Truro Select Board has been working diligently to create a proposal that will allow those condos that are suitable, to be used for year round housing. It makes sense for the many condos in Truro that were built to be year round, who comply with all building regulations.  For those beach cottages that are not up to code, there is no reason to suppose that they will suddenly be inhabited year round, if the amendment passes.  Condos will only be approved for year round residency if all building codes and regulations are met.  Along with last year's passage of the Accessory Dwelling Unit by-law, this amendment will gradually add more affordable housing options for folks that work in or near Truro, for those who have family here and those who might otherwise have to move away.
Re fundraising: Friday March 23, 2018, we are teaming up with Habitat for Humanity of Cape Cod  at Ryan Family Amusements, Rt. 28, in So. Yarmouth for  "Rally The Alleys,"  a bowling fundraiser. Our very own HAH bowling team, The Alley Oops, will be participating and raising funds for Habitat to help build homes for local families at affordable prices.  You can support this fundraiser by going to www.rallythealleys.wordpress.com, click on  donate to a bowling team, fill out the information, and enter the amount you are donating.  At the bottom of the form click on the donate to a team drop, select our team, the Alley Oops!
On Friday April 6, 2018 the Alley Oops will team up again for a bowling fundraiser also at Ryan Family Amusements in So. Yarmouth, "Roll The Rock."  We are collaborating with Cape Cod Charitable FundRaisers along with our friends at WE CAN, who offer life enhancing services for women of Cape Cod. You can support this fundraiser by going to capecodcharitablefunraiser.com, click donate, Roll the Rock, choose the bowling team "Alley Oops" and enter the amount you would like to donate and add to cart.
Thank you and Happy Spring!  (We are sure it is on its way!)
The HAH Board of Directors
Kathleen Henry, President
---
Carl Brotman received the 2017 Herron Award.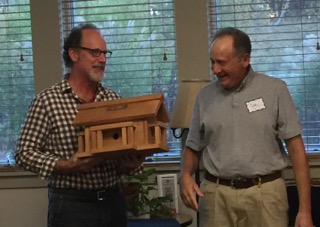 Oct 27, 2017, Truro–  Carl Brotman (right) receives the second annual Caroline Herron Award for excellence in Affordable Housing.  Christopher Vazquez (left), HAH Board member and owner of Architectural Woodwright, created the birdhouse award.
Please see below for a Press Release about the event, and a speech Kathleen Henry, the President of Highland Affordable Housing made in honor of Carl at the event.
PRESS RELEASE:
Contact: Kathleen Henry, President, Highland Affordable Housing, Inc. Cell: 857-544-2937
FOR IMMEDIATE RELEASE
Details of Event: October 27, Council on Aging, 7 Standish Way, Truro, MA 4 to 5:30
Highland Affordable Housing of Truro Honors Truro's Own Carl Brotman
Highland Affordable Housing honors Truro's Carl Brotman with the 2017 Caroline Herron Memorial Award for his outstanding advocacy of affordable housing on the Outer Cape. "Caroline Herron was a force according to everyone who knew her and worked with her, especially in her passion for affordable housing. We honor her memory by celebrating the years of accomplishment and leadership Carl Brotman has brought to Truro through the Truro Housing Authority and his guidance of Highland Affordable Housing," says Kathleen Henry, President of Highland Affordable Housing.
The Caroline Herron Memorial Award honors individuals or organizations who have evidenced outstanding advocacy for affordable housing on the Outer Cape. Brotman, who received the Robert Kuehn Community Preservation Award at the State House in 2015, has contributed in many ways to meeting Outer Cape housing needs. As chair of the Truro Housing Authority he has coordinated with the Community Preservation Coalition on many projects, worked at the state level to acquire land for the development of affordable rental units, and combined with Habitat for Humanity to create affordable housing in Truro and the Outer Cape. Last Spring, as a private citizen, he helped put forward a successful town meeting campaign to augment affordable housing efforts with an Accessory Dwelling Unit amendment to the by-laws. Carl Brotman has brought the facts to bear on housing as a serious issue for Truro and has worked tirelessly to educate the public that we all benefit when affordable housing stock increases. Brotman generously offers his time and valuable affordable housing experience and wisdom as a consultant to the Highland Affordable Housing Board.
His kindness and good will is unmatched; his wit and wisdom unparalleled. Highland Affordable Housing, indeed all affordable housing efforts in Truro, would be nowhere near what they are to date were it not for his intelligence, his integrity, and his affability. The volunteer hours he has contributed to making Truro a vibrant community are countless.
The award ceremony will be held at the Truro Council on Aging on October 27 from 4 to 5:30 pm and will bring together affordable housing advocates, Highland Affordable Housing supporters, residents of affordable housing units, town officials, and friends of Carl from all across the Outer Cape and Islands.
Caroline Herron, for whom the award is named, was a long-standing member and president of Highland Affordable Housing of Truro and a force to be reckoned with. "Highland Affordable Housing lives on and thrives due in large part, to the hard work, dedication and light of Caroline Herron," says Mary Abt, past President and past Treasurer of Highland Affordable Housing. Herron had a quick wit and always had a story about her growing up years in Truro. Herron passed away in 2015.  In her memory and to continue her work Highland Affordable Housing instituted an award in her name.
Highland Affordable Housing came into existence in 1996 to save two Coast Guard cottages from demolition. Two working families with children now own those houses and contribute to our community. Since 2008, Highland Affordable Housing has added four new rental units to Truro's affordable housing stock; one is for a senior and is handicapped accessible. This year, a joint project between Highland and Habitat for Humanity of Cape Cod has begun. Highland helps Truro preserve its vibrant character while working with Truro neighbors to promote decent affordable housing on the Outer Cape, where the average family median income hovers around $82,000 and median home prices range above $570,000.
---
SPEECH:
Speech in honor of Carl Brotman 2017, by Kathleen Henry:
Admit it, we love Carl Brotman.
There's a glimmer that happens behind the crinkles at the corners of his eyes, just when he's about to do that little smile of his. Love that.
You all know the story by now about how we tried to stage today's event as a surprise. Gosh, we wanted to pull one over on him. I lied fabulously at the last Board Meeting. Who was getting the award? Well, his name was John McGovernor (or something like that). And who was he, Carl asked, looking up, surprised at a name he didn't recognize. "An old friend of Caroline's who donated a lot of money." "Oh, good idea," said Carl. Kat Black, also at the meeting, had jumped in immediately with her confirmation, "Yes, McGovernor was a big donor." (She is nowhere near as good a liar as I am..but between the two of us we were sure we had nailed it.) We found out from Sally afterward that not for one minute did he believe me. Not one minute…and knowing I was lying totally gave away that indeed himself must be the recipient.
Memories of my mother saying "You have to get up pretty early in the morning to fool me" wafted through my brain.  I couldn't ever get up early enough to fool Carl.
We each have a Carl Brotman story, I suspect. Yours perhaps involves golf, or fishing, some Board of Selectmen meeting. . .
And, We all know that what Carl has done for affordable housing in Truro is nothing short of miraculous. Truro presents many peculiar challenges to adequate affordable housing—so much of our land is protected national seashore, being a resort community means housing values are fantastically high, various town rules and regulations pose hurdles, many of our residents are part-time dwellers whose empty, expensive houses sit idle for months out of the year. And, Truro's year-round resident population is very small.
Carl took on all those challenges and slowly but surely has convinced the town that housing which working people like our public service employees, police officers and teachers, nurses aides, etc–can afford is vital for our future. Repeatedly at Town Meeting, the residents of Truro have voted to support affordable housing initiatives. Slowly but surely he has also convinced the powers that be in the Commonwealth of Massachusetts that Truro is a place to invest resources for housing development. His behind the scenes, patient, well thought out work and his affable conversation connects with folks ranging from the State House to neighbors gathered at the local post office.
Truro has gone from the community in the state with a terrible record of affordable housing to a community where new housing starts thanks to our partners at Habitat for Humanity, reliable rental units, and soon, new development is creating a future where the adult children of Truro residents will be able to afford to live and new residents will find welcome and security. This is thanks to Carl Brotman. Highland Affordable Housing depends on Carl's guidance and wisdom. The Truro Housing Authority has depended on hundreds his volunteer hours and fine stewardship and clear leadership.
Carl grew up loving Truro. The fish in the bay know him well and try to swim fast when he is on the way. The grasses at the links wave to him as he passes (those grasses hide many of his lost balls, to be sure). And all the residents of Truro owe him their thanks for seeing and understanding the need before many of us did and setting in motion the steps to create a Truro community where affordable housing is welcome and valued.
We love him. Smile that smile now, Carl, and step up here to receive the Highland Affordable Housing Caroline Herron Award of 2017 for Outstanding Service.